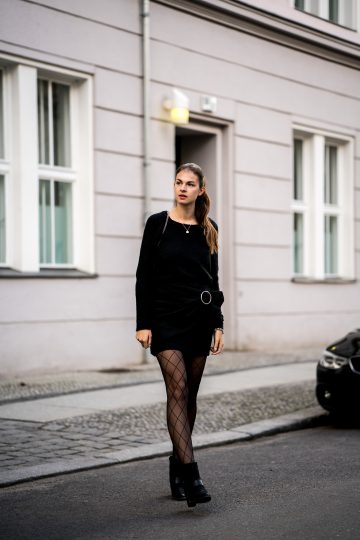 Black Skirt and Fishnet Tights
Once again I was wearing an all-black outfit, but this time it's not a casual outfit I would wear on a daily basis. It's a casual chic outfit. Casual because of the cosy sweater I was wearing and chic, because of the skirts, boots and fishnet tights, as well as my Gucci bag, add a chic touch to this all black outfit. It's an outfit I would wear to a meeting or another important appointment.
I would also wear it for a night out or when having a date. You can wear it to a lot of different occasions, events with a chic dress code.
The key pieces of this outfit are definitely the black skirt and the fishnet tights. The tights are part of the Caro Daur for Calzedonia collection. I was looking for a fishnet tight like this quite a while and had to buy it when I saw it at the Calzedonia store in Cologne. I have another pair of fishnet tights, you've seen a couple of times before, but it's just the net, and it barely keeps me warm. Right now it's too cold to wear it with only a skirt or dress, but I will probably wear this other pair of fishnet tights more often as soon as it's warmer outside. This pair of fishnet tights works very well right now because it keeps me at least a little bit warm and looks pretty nice at the same time. 🙂 It also works very well with the skirt, don't you think? I can't wait to wear it more often and to combine the tights with the other skirts I have in my closet! I also can't wait to wear the skirt more often. Next time I will probably combine it with a white shirt or with a basic t-shirt when it's warm enough. I'm also thinking about the combination with a band tee or something similar. What do you think about my casual chic all black outfit? And how would you combine this skirt?